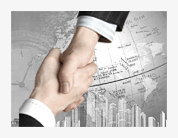 BROAD Group was eatablished in 1984 and isan international air freight & sea freight cargo agency in charge of helping with imports and exports from Taiwan,China and Hong Kong. We offer exclusive logistic service in transportation and efficient assistance in handing cargo and strong. For over 20 years we have been receiving and delivering cargo to terminal around the world a professional and responsible way,thus guaranteeing reliability.
BROAD Group operates in the field of air/sea transport from Taiwan,China and Hong Kong from/to any destinations of the world. We are professionals and dynamic organization,possesses equally rich andunique resources in interational freight forwarding and customs house brokerage service.
BROAD Group is an international freight forwarder skilled in the planning and implementation of any shipping operation. Being a full service freight logistice company gives us the flexibility to evaluate and calculate our clientele requirements within the everchanging market. We concentrate our offorts on servicing our clients and make sure that we provide the best shipping solutions. Skilled assessment and flexibility allows us to suggest the best methods of transportation for your shippinf needs.
BROAD Group Headquarters at Taipei Taiwan and CKS airport. With tje accumulated and proficiency experiences in transit shipments to/from China,Lee Tat Groups branches at Hong Kong,Shanghai,Shenzhen...to develop,operate,control,and in charges of the whole transport procedure.